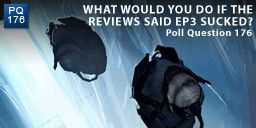 Now I know that nobody reading this even remotely believes that Episode Three will be anything but incredible BUT I can't get the thought out of my head.
I have been watching more TV shows than I usually do and I've been thinking about new seasons of some shows I like. I am a HUGE fan of Dexter and normally wait until a season is finished before watching it in a few days (there's no way I can watch shows once a week, I just don't have the patience), and for some reason I thought "What if my friends say it's not so good, don't bother.".
I still can't get the sour taste out of my "TV mouth" due to the ending of The Sporanos. I will NEVER watch another TV show by David Chase. The ending has somehow overshadowed all the good episodes and scenes I remember.
So, imagine that happened to Episode Three. If playing it ruined your memories of the series would you want that. Would you just wait for the community maps and hope they do a better job?
The Poll