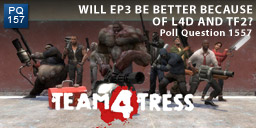 I understand why Valve make other games, I do, I just don't like it. I want the best Episode 3 they can make and I want it now.
In addition I want a series of video tutorials for making single player mods, a book and even paid forum support. Did I mention I want it NOW!?
But, sometimes you have to stop what you are doing, do something completely different and then go back to what you were doing 0 if that makes sense. Sometimes when you do that you do a better job. I am hoping that that is what Valve have done.
I am pretty sure that EP3 development has been ticking over for a while but now that they have released L4D2 I hope they begin to focus on EP3.
The question is what could they have learnt from those games that would make EP3 better? Players and mappers of those games are better able to answer that question but….
I predict
Episode 3 will have 4 player co-op mode and even be sold in special 4 Value packs.
But semi-seriously, what do you think they learnt, if anything and how will it affect the development of EP3?
The Poll