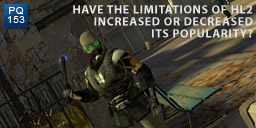 I need to clarify this question, because "limitations" sounds such a negative word.
When you look at how HL2 works in regard to movement and weapons etc it can seem quite limiting. For example, a lot of games have headbob, and changes of view while sprinting, bullet time etc.
All these additions to how the player interacts with the game seem commonplace among HL2 competitors and there are plenty of mods that add these types of features.
For me, however, it's one of the important features of the game. it doesn't overwhelm you with options and it fits the general theme of the game; one normal man, alone, fighting against the enemy, with very little help.
Sure you have some great weapons and the Gravity Gun is certainly not a limitation, but if you look at what Episode Two brought to the table, in terms of basic gameplay features ,compared to HL2 it's not much, and that's not a criticism. It kept things simple, added a new weapon and vehicle but took the story telling to new heights and you have to say looked beautiful.
HL2 mechanics are pretty simple and I believe that has helped it become even more popular. It's harder to take out mechanics than it is for modders to add them. So by shipping a "simple" game you create the modding community based around additions. Have you ever heard of a community designed to take stuff OUT of a game.
Every time I try a new game I am always making direct comparisons with HL2 and every game comes up short. Yes, that's because I love the series but I still believe that it's simplistic mechanics are one of the fundamentals for its success.
What are your thoughts about the mechanics?
The Poll