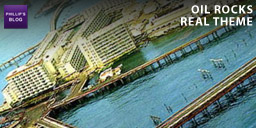 If ever a real place was crying out to be made into a mod, then this is it: Oil Rocks (Neft Dashlari).
It's a city built on the Caspian Sea and was built to extract oil just after the end of the Second World War.
There are so many possibilities for this city for the developer, that I am surprised something like it has never been seen.
I can just imagine the screen fading to black and the player is silently moving towards the city in a simple boat. It's night and the lights from the apartments and industrial buildings reflect in the cold, dark water. Voices and music drift in and out of range.
The player comes to a stop against one the few water-level edges and so begins his journey to reach the drilling area and descend hundreds of metres down the shaft to the "Find".
Something so powerful and so dangerous the Soviet authorities have evacuate the city and sent in hundreds of soldiers.
Anyway, enough of my crappy story writing, here are some real images of the place. You can even see a video here: EnglishRussia.Com. You can also find some more information here: Window 2 Baku.
Screenshots