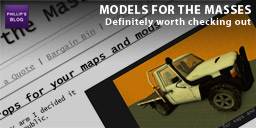 I was recently messaged on Steam Friends and asked if I would post something about a new site. Generally, I avoid this for a number of reasons, but when I visited the site in question I was really impressed with the concept.
Models for the Masses has a simple objective: to make high-quality models for money. In fact, it might have been better to have been called Models for Money but I digress.
Through my Steam Friend (Not sure if I can mention their name), I chatted with the site and idea's creator, known as Black_Stormy and learnt more about the project.
It seems like a great idea, and I have no problem with modders getting paid for their work if they deserve it.
I highly recommend you check it out.
A Special Treat for PP Readers
To help promote the concept I came up with building a free model to giveaway here and help get the site better known. My suggestion was of a Combine headcrab and the image below is what Black_Stormy created.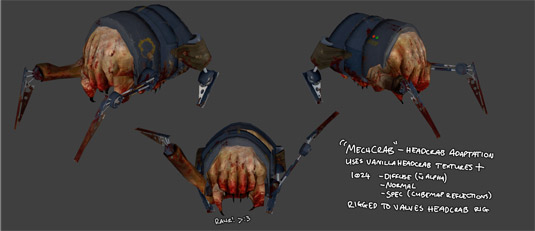 As it turned out the model I suggested required a bit of coding that was beyond the scope of the free project. The model is available for download and it contains instructions how to install it. You should be aware that it will replace your current headcrab model, so be sure to make copies of the relevant files.
In addition, the source files are also available for any one who wants to tinker with the model etc. If somebody can find a way of making it an option instead of replacing the default model, please let us know.
A Quick Interview
I also took the chance to throw a few questions Black_Stormy's way.
Hi, thanks for taking the time to chat with me. Can you tell my readers a little about yourself?
Well, I'm Australian, I use blender, and I have been seriously modelling for two years, about as long as I have been using source. I mucked around in blender for a few years before deciding to actually dedicate myself to modelling and now I study and model whenever I have spare time.
What got you into modelling?
I officially started modelling when I was 17, I was modding a map for eternal-lands, a fairly new mmorpg (at the time) and I wanted a model that the map editor didn't provide. The devs put me on to blender and I started fiddling with it then.
Where did the idea of the site/service come from?
It was originally a self validation thing. I wanted to know if my models were good enough for people to want to buy. I thought that if someone wanted to pay me to make models I would know that I was at least on the way to my dream of modelling for a crust.
How many models have you made so far?
For M4M? a few. Overall? Countless. Well within the hundreds, but only a few worth actually mentioning. Part of learning any skill is practice, and a big part of practice is failure. I have to be honest, I have some pretty terrible models on my old dusty hard drive that I keep only as a yardstick to see where I am now.
Have you received many quotation requests?
My first quote request actually came through while I was still coding the site, and since then there hasn't been a break. Most of the requests have been for very complex models which take quite some time to make. Unfortunately that means I have a bit of a waiting list at the moment but I am able to push out smaller models while working on the big ones.
How do you plan your work?
I like to get as much reference material as possible and have a bit of a brainstorm. For some reason this is best done in bed late at night when I have to get up early for work the next morning. I get my best ideas then. I'll generally think about areas that may be problematic and try to anticipate what I might do.
I usually do a quick block out to get my head levelled and then I go in and start building. I like to model poly by poly which is generally more time consuming but I find I have more control over the results, and I enjoy myself more. Most models have several iterations no matter how much planning is put in so I usually work pretty organically and fix it up as I go.
Which mods have you worked on?
Well I have worked on quite a few mods but none have been released, which is another reason why I started the site. I was mostly freelancing for the first year of using source, and I got a model in a map here and there. The L4D map "I hate mountains" has one of my models in it, a yellow truck trailer, which I made way before I knew what I was doing and wish I could fix up. I also donated a small model to "Sabotage" which has unfortunately recently been abandoned.
I am the lead modeller on "AURA", an RPG gamemode for garrysmod, which has only just gone public on the facepunch forums. At the moment M4M takes up all my time but when I'm not modelling for M4M, I'm modelling for AURA. I have also contributed to heaps of other mods and made models for random requests on forums around the place, but none really worth mentioning.
What's the most interesting model you have made?
I made a CV-22 Osprey, originally as an escape vehicle for a L4D mod, but the mod disappeared a few weeks later, before I could finish texturing it. I went on to finish the model, and put in far more work than I expected. I ended up giving it an interior and rotatable motors/props, and learned to texture largely from that one model. I modelled it three times and textured it four, and it took me about a year and a half to complete.
After all that work it sits in my models folder unused. I'm still not happy with the texture and I'd like to animate it someday, but for now I keep it as a monument to how much a person can learn from one piece alone. I attribute almost all of my current skill level to that one model.
What ambitions do you have for the future, regarding modelling.
I want to be a modeller for a small indie company. Think Aubrey Serr from Wolfire. I don't want to go AAA because I use blender and 3ds scares me. Plus AAA modellers have been to university and have been told how to model. I like to think that self teaching allows you to cultivate your own style, and there is enough information on the internet to fill a hundred textbooks. I want to be one of those dudes who have portfolios that make your jaw drop. And that means a whole lot of work.
Where did you learn to model?
The internet has inexhaustible resources for a budding 3d modeller, I have just practiced and failed and practiced more up to now. I have also read as much theory as I could find. Any curriculum involves theory, and self teaching shouldn't be any different. I learned mostly from sites like blenderartists.org, blendercookie.com and from the heavy critiques you can sometimes get from game-artist.net and interlopers.net.
I think it's important to lurk on a few boards and read other peoples problems before posting about your own. Often you'll learn more that way because you can get alot of different peoples input straight away.
What advice would you give to new modellers?
Learn about loops and poles. Learn them, love them, tuck them into bed at night and read them stories. When I finally got my head around loops and poles it was like getting the fierce deity mask in Majoras Mask. Like getting the rocket launcher in HL2. It took me to the next level.
Also get a good attitude towards your craft and try to avoid burning yourself out. A good session can be ruined by going two hard and needing weeks to recover. I have burnt out and lost the drive to model for months because I didn't manage my time properly. Contrarily, practice as much as you can, and find a good supportive community to share your work with.
Constantly push yourself out of your comfort zone and try to learn as much as you can from each and every piece. If every model you make is the very best you can, each one will be better than the last and you will shoot yourself up the skill tree much faster. It's very easy to sit on what is comfortable, but you don't learn anything new from repetition.
What would you love to make a model of?
There is a small depot on the way to work that has a few big chemical tanks and a safety wash station. In daylight it is bland and boring, but in the morning the lights in and around the tanks have some great contrasting tones and make it look like a scene straight out of a gritty comic book.
It looks like it was designed by a concept artist, not a boring health and safety dude. I have wanted to make it into a game scene for a long time, and I plan to eventually. It's probably a bit odd, but there's something about that little compound that draws me in and tickles my cerebellum.
What's the best amateur model you have seen?
There is an old picture from the blenderartists gallery of a model by Andy Goralczyk. It's a steampunk frog sitting in amongst lotus blossums on a branch. I am a nutjob for steampunk and the general composition of that image really rings with me. It's not a technical marvel or even a very big project, it probably only took him a day or two, but I just love that picture.
Thanks for taking the time to reply, anything you would like to add?
Yeah, I am always happy to talk to modellers, new or old. If anyone wants to talk about modelling just add me on steam. You should be able to guess my steam nick 😉 Also if anyone uses the combinecrab model in a map, I would love to see screenshots! Email me: black_stormy AT modelsforthemasses DOT com, or post them on this post.