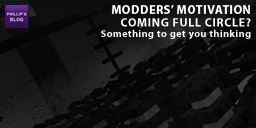 I think I am slowly coming to the conclusion that the reason for making mods has changed.
Again.
Perhaps this is obvious to you but I've never really thought about it before.
If you play enough of the 100SDoN maps and mods I have posted, you get a small insight into the minds of the modders "back in the day".
Ideally, I would have posted them in the exact chronological order they were released, but I didn't think of it when I started the event.
The reason I think that would have been good is it would have showed a change in the types of mods released.
Like it, or lump it!
Essentially I feel that at the beginning of modding, modders created what ever the hell they wanted. If they loved really hard/challenging levels, that's what they created. If they loved abstract ideas, that's what they released.
They built mods because it was new, fun and creative. They built levels without worrying about realism, physics or other mundane concepts. They built mods they wanted to play – if you didn't like it they tough titties.
The pattern is clear and that's one of personal taste.
More Professional?
Over time, things started to change and more modders wanted to create professional looking mods, with hours of gameplay and storylines. That was when teams were needed and another element was added to modding: team management.
Then came the release of Half-Life 2 and suddenly modding got a kick up the bum. It seemed impossible that one person could create a truly incredible mod. The tasks were too diverse and required too much specialization.
Modders seemed to try and make mods as portfolio pieces, just to get into proper jobs. I am not criticising that approach, just recording it.
Lurking in the background was Garry's Mod. Garry's mod did what no other mod had done, at least not in the same way. It went to a paid version and made Garry some serious money.
Sure, mods had gone retail before but not via Valve and Steam and not built by more or less one person.
Art Mods
Things ticked along like this for a while and then came "Art mods".
"Art mods" are mods that broke the rules of modding, mods that didn't have a proper ending, or even shooting. Mods that told stories without action. Suddenly, game engines were windows into other forms of "playing" and the community got a little excited. "Ohh, something new, that must be cool!". And it is – if you do it right.
Until of course they realized that making these mods is harder than it first seemed. Why is that? I don't know, maybe the creativity had been channelled in certain ways for so long that changes those channels was harder than we suspected.
I am not saying there wasn't creativity in mod making before Art mods, but that creativity was limited in how we thought of games and mods.
Now some of these mods are gleaning a lot of attention and even turning into indie games.
Indie?
Also in the background, the Smart phone revolution was beginning to take shape and "apps" became a normal word to hear in offices and bars around the globe.
And now the "in" word is "Indie". Independent games. Games, made with "simple" engines. Games that make the creators money. Games that help show potential employers the skills they apparently need.
Of course, there's no direct link between Indie games and Smart phones, you'll find a lot of indie games going the smart phone route first and then on PC. Warm Gun is a prefect example of this. WG has as one of its main contributors a modder called CubeDude, who made models and levels for many years, before moving into the gaming industry)
Of course, developers still need level designers, modellers, coders, texture artists etc etc, but what better way to do that than build your own successful game and make a bit of cash at the same time?
Another example is Au Heppa, who is building Water too show he has creativity as well as technical ability to potential employers.
Which brings us back to the original point (phew!).
Is modding about to go back to its roots, where modders build for the love of it and where they create something they want to play?
For some, modding is just a step into "real" game development, but for others it is a needed side of the gaming industry that leads to innovation and creativity that would be impossible within the corporate gaming world.
There are few left out there "making from the heart" and for my money Muddasheep is easily amongst the best. He knows what he likes and keeps doing it. He has a solid following.
I get the feeling he would still make the stuff he makes whether he got 100 downloads or 100,000. Praise be to modders that know what they want, especially if it's different from the stuff that is being released.
Just before I hand over to you for the comments, I want to add that I know it might sound a little hypocritical coming from me, seeing as I love all the Black Mesa HL levels and the Standard HL2/Ep2 stuff. But I love it NOT because it WAS popular a few years ago but because I could play those types of levels all the time.
If modders make that sort of stuff because that's what they enjoy, then fantastic. If they make it because it's a means to an end, then that's a shame. It's those kinds of modders who move on to the next thing that is popular.
Make what you love and love what you make, that's what I say, anyway.