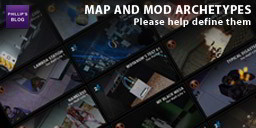 Let me start by saying that this article will not list archetypes, but is a call to the PP community to help define them.
The reason I am asking is because I read this BBC article and it started me thinking about how we could apply that to Half-Life maps and mods.
Ideally, we would have no more than 7, as I could then write a 7 Series article, but that's getting ahead of ourselves.
If, and it's a big if, we can agree on some clearly defined archetypes then I will convert them into TAGS and that will help players looking for maps and mods that interest them.
Now that I have started writing about it, I suppose it's very similar to 7 Types of Half-Life Players.
I suppose I should write them myself but unusually for me, I am lost for words, so I thought I would open it up to you, the reader and them I'll select the ones I feel are most suitable.
So, please define some for me in the comments.