Update: MapTap has been replaced by Gauge.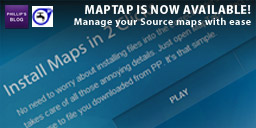 I am incredibly pleased to announce that MapTap is now available! It has its own project website, but this post is just to make sure as many potential users as possible hear about it.
In addition, I am also announcing a special giveaway for confirmed users of the application.
On the 31st October I will be randomly selecting a user and sending them the following games:
Plus some other games that I will purchase between now and then.
Serious Sam: First Encounter and Serious Sam: Second Encounter have been donated by Vic from LambdaGeneration and Iron Grip: Warlord is an anonymous donation.
Here is how the giveaway will work
Every installation of MapTap that has been used at least once, receives a special key connected to their installation ID. I will announce the winner of the games by their ID. They will then have to send me their key and once I confirm it matches, I will send the games to you.
MapTap DOES NOT collect ANY private information or details from users.
For complete information about the application, including download link, FAQ and videos, please visit its home page: MapTap.
MapTap: Manage your Source maps with ease!
Just a quick update.
It's become clear to me that I haven't done enough to ensure readers know what files can and can't be used with MapTap. It was never my intention to just release the application adn let readers find those files themsevles, but I should have made it easier from the start.
I have made some changes to the site, and will continue to do so, that will help MapTap users.
Firstly, I have created a new TAG, called MapTap. All new files that can use MapTap will have this tag added. In addition, the frontpage and archives now display whether a file can be used with MapTap, it's displayed under the download total.
Unfortunately, I still have to backdate that TAG to all the maps, so at the moment only some EP2 maps have it. I spent an hour this morning updating 95 EP2 files, splitting then into Maps and Mods. I promise to do all the files for all the games eventually.
The problem is that some of the older files are still in RAR format, and I will have to change those to 7zip, which is even more work.
I have created a MapTap link on the Visual Tags page, along with an RSS feed to help you stay up to date on which files can be used.
Lastly, I will be editing all the maps that can use MapTap to have a direct use and download link, so users can simply click the graphic nad have everything taken care of by the application.
It's a lot of work, but I feel it's worth it.