Update: MapTap has been replaced by Gauge.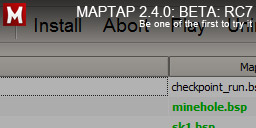 Alex and I have been working hard on the next version of MapTap (well, mostly Alex), and I have decided that from this version onwards, I will release each beta version.
In this case, it's even more important than usual to get a wide variety of testers. This version should now detect the correct location of your Half-Life installation.
Features
Show only the "First Maps Only"
This feature will make it easier to play maps that are part of a larger pack. It's not perfect, as sometimes you want to play all the maps individually, but viewing the first maps only sure helps.
Installation Location
This version should now correctly locate the installation of the various Half-Life locations.
Timer
One other feature is that the timer should now stay visible. It's the first step in a few more ideas related to the timer, but there are more important features to include first.
Feedback
I am looking for people to install and use the application and provide feedback on your experience. I need as much detail as possible, especially if you encounter a bug. We need to know exactly what you did, so we can try and replicate it.
Feedback should be via this post as a comment and include as much information as possible.
DISCLAIMER
As with all beta release software, it may not work as expected. You accept ALL risk involved. Of course, we don't believe there will be any adverse affects, but it's still not our fault if something goes wrong.
Download the update
Download to your HDD [6.08MB]
You have read the disclaimer, haven't you?
Download the full installer
Download to your HDD [11.0MB]
You have read the disclaimer, haven't you?
Installation
The file has been compressed into a 7zip file because I disallow ".exe" file downloads for security reasons. Open the file with your compression software of choice and copy the .exe to a location of your choice and run it as an administrator.
It is only designed to work on Microsoft Windows.
If you decide to test it, thank you.