Update: MapTap has been replaced by Gauge.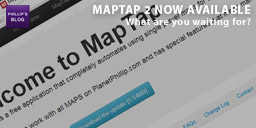 MapTap 2.1 Now Available
This release contains a new feature. The file and right-click menu item now has a link to "Open review page". This will search PP and open the post of the map you have highlighted.
It should work perfectly, but if you have any issues, please let me know via Email.
In addition, this release gives the column widths better spacing.
Current MapTap users should be notified of the update the next time they start the application.