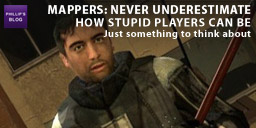 As part of the 100 Summer Days of Nostalgia event I added a mod called Prisoner of Event and in my review I complained about not having been given a crowbar.
It seems I wasn't the only one who didn't like not being given one, but behold, we were in fact complaining unfairly because there was a crowbar laying around at the beginning of the mod.
Now, this is the second time this week that I missed the obvious. In a Portal 2 map, which I will be posting in a few days (it's not new, so there's no rush), I got to the end, or so I thought and then got stuck. I played another twenty minutes looking for a solution and then I gave up, opened a browser and searched for a video walkthrough.
When I found the solution I literally slapped myself on the head for being so stupid. The actual solution was so basic and elementary that I was quite embarrassed. But then I thought to myself that Portals are not simple things and overlooking some solutions is not a case of me being stupid because they are so far outside of our real lives that using them takes a leap of faith.
I can't help but make the connection between what happened to me and Randolph Turpin, from the Dad Plays Portal videos. I can easily imagine somebody sitting behind me watching me play this last section of the Portal 2 map and pulling their hair out wondering why I just don't shoot a portal "there".
Neither of us is stupid but like all humans we seem to do stupid things.
Which brings us back to the Half-Life mod I was talking about. As bolx rightly wondered " What I