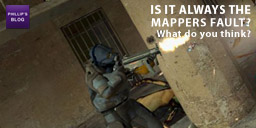 Late last year a pp reader posted a review about a map which went against the general consensus. Everybody has a right to their own opinion and if somebody doesn't like a mod that most people do then that's fine.
Well, most of the time it's fine.
Sometimes it bothers me that players complain about a mod because I feel they have started playing a mod after reading all the good reviews and it didn't live up to their expectations.
Other times, maybe they just don't want to be a sheeple and they write something to sound cool and critical.
Other times they are just assholes.
This particular reader is none of those and their point is at least partially valid – if you can't get past a particular section in a mod whose fault is it?
I fully understand the sentiment as I have personal experience of it. When playing G String I got stuck in one section that no matter how mnay times I tried to beat it, with varying tactics, I just couldn't. As far as I was concerned the difficulty level was a significant jump on anything before or after.
It certainly left a sour taste in my mouth and I was pretty unhappy about it. Of course, this is different as it was a very small part of a huge mod, but what happens if it's a bigger part of a smaller mod?
Now, I don't want to talk specifics because it's not right and actually not that important. But I do want to ask the question: "Whose fault was it?"
If a mapper creates interesting scenarios and has them tested by varying skill levels, is that enough? I think so.
I think it's unfair of reviewers to mark something down because of one section that they couldn't pass. I suppose the key point is if the jump in level is too much.