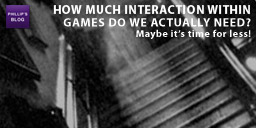 I think we would all agree that as games have progressed, so has the amount of interaction between the player and the game.
In Half-Life 1, you could push creates around, shoot shit, press buttons, open doors and had interaction with the environment.
Half-Life 2, pushed that interaction much further with the gravity gun and and all the objectives it could manipulate. There's little doubt it was fun.
How much further can we go? All the way? To the point where we touch something in the game and some sort of HUD displays the items properties? Do you want to touch, move, break and interact with everything? Will that make the game more fun than less "interactive" games?
So, how about we go the other way and actually remove interaction.
At this point I want to make it clear that I am still talking about a game, a game that can be played and is different each time. Not some sort of Alt mod that you participate in rather than play.
How little interaction is possible before the fun is lost?
Imagine a game where you play as a ghost. You need to affect the actions of the live people to reach your objective which could be anything from scaring them out of the house to passing a message on.
Now, you can't just switch items to "chains" and start jangling them. You need to do something more subtle and perhaps realistic.
Maybe you just have to be in the right place at the right time. Your presence itself is enough to alter the actions of the people. Maybe your "powers" increase over time as you begin to create more effects within you sphere of influence.
I fully admit that the idea is just a start and the general concept needs much more thought but I feel the idea of less interaction needs exploring.