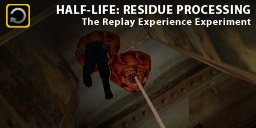 After escaping from the trash compactor and getting back to the surface, Gordon stumbles towards a mostly abandoned part of the facility, meant for processing and disposing of waste and hazardous materials. Dodging and jumping through antiquated compaction machines, great vats of green waste, and slipping through furnaces, as well as riding on gravity-defying conveyor belts, Freeman escapes to a hidden part of the facility.
Trivia
The old level name featured on Half-Life: Day One, given in the "titles.txt" file was: Chutes and ladders.
The Poll
Challenges
The challenges below have been set by 2muchvideogames
Exploit the observation area as a shortcut.
Unlock 7 doors.
Complete this chapter without taking any fire damage.
Saves
MEDIUM: 100 Health 92 HEV [8KB]
HARD: I need a HARD save for this level. Do you have one? Please send it to me.
Screenshots
Click on the thumbnails below to open a 1024 pixel wide image.
WARNING: The screenshots contain spoilers.
The Replay Experience Experiment
This post is part of the The Replay Experience Experiment 2012 event. This is a chance to replay all the Half-Life games and discuss them based on our experiences since we first played them.
Hat Tip
All text taken from the CombineOverWiki, a fan-supported, editable wiki covering the Half-Life series of games.
A Complete Half-Life Walkthrough
On the left is a complete text walkthrough for Half-Life.

It has been written by Stanley E. Dunigan and updated with all the tricks and tips from PlanetPhillip.Com readers.

It is in PDF format, meaning you can open it directly in modern browsers or download it and print it.

(Left-click to open and right-click to save)
Do Not Own This Game?
You can purchase Half-Life directly through Steam and could be playing in within moments, depending on your internet connection.