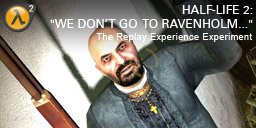 This is the sixth chapter of Half-Life 2. It details Gordon Freeman's journey through the ghost town of Ravenholm.
Originally a hidden village that lived free from the rule of the Combine, it was discovered and attacked by hundreds of Headcrab Shells, transforming almost the entire population into deadly Zombies.
This chapter also introduces two new headcrab variants – the Poison Headcrab and the Fast Headcrab – and their zombie counterparts.
The title is a reference to a comment made by Alyx Vance in the preceding chapter while showing Freeman around the base: "That's the old passage to Ravenholm. We don´t go there anymore."
Freeman kills zombies and avoids bizarre deathtraps, meeting the man who set them, Father Grigori, who gives Gordon a shotgun. Freeman and Grigori make their way to an old mine which has a path that leads back to City 17, but Grigori stays behind to fight zombies, and he continues to do so until the crypt behind him bursts open, leaving more zombies to come out from it.
He continues to shoot the zombies for a while until he runs through a blazing fire into the crypt.
Trivia
The Ravenholm tunnels entrance through Black Mesa East sports a sign, which says WARNING: CONTAMINATED AREA. Many similar Notices are present in Ravenholm.
If the player is to run to the entrance to the mine and then goes back, Grigori is still there, forever battling the hordes of zombies.
Achievements


Screenshots
Click on the thumbnails below to open a 1024 pixel wide image.
WARNING: The screenshots contain spoilers.
The Replay Experience Experiment
This post is part of the The Replay Experience Experiment event. This is a chance to replay all the Half-Life games and discuss them based on our experiences since we first played them.
Hat Tip
The intro and trivia text are taken from the CombineOverWiki, a fan-supported, editable wiki covering the Half-Life series of games.
Walkthrough
On the left is a complete text walkthrough for Half-Life 2.

It has been written by Stanley E. Dunigan and updated with all the tricks and tips from PlanetPhillip.Com readers.

It is in PDF format, meaning you can open it directly in modern browsers or download it and print it.

(Left-click to open and right-click to save)
Do Not Own This Game?
You can purchase Half-Life 2 directly through Steam and could be playing in within moments, depending on your internet connection.