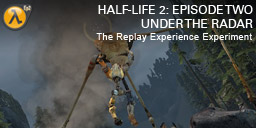 While Alyx and the rebels work on the car, Gordon disables a Combine Autogun that is hampering Resistance movement.
In the meantime, a rebel technician repairs the car and installs a radar detector that picks up Resistance caches.
After the car is fixed, Alyx and Gordon continue to White Forest, traveling through the zombie-infested countryside and retrieving supplies from several hidden caches.
An enormous Combine ambush is laid for them at the White Forest Inn, but after defeating Hunters, soldiers, and Elites, they approach the White Forest base.
They witness a dropship being downed by rebels, however the Strider that it was carrying awakens. Dog arrives and defeats the Strider, and Alyx challenges him to a race to the base.
Screenshots
Click on the thumbnails below to open a 1024 pixel wide image.
WARNING: The screenshots contain spoilers.
Achievements
I won't be covering the Episode Two achievements in the same way as I did in the Half-Life 2 TREE event, because they are less chapter based. However, the CombineOverWiki has nice list that is very useful.
The Replay Experience Experiment
This post is part of the The Replay Experience Experiment event. This is a chance to replay all the Half-Life games and discuss them based on our experiences since we first played them.
Hat Tip
The intro and trivia text are taken from the CombineOverWiki, a fan-supported, editable wiki covering the Half-Life series of games.
Walkthrough
On the left is a complete text walkthrough for Half-Life 2: Episode Two.

It has been written by Stanley E. Dunigan and updated with all the tricks and tips from PlanetPhillip.Com readers.

It is in PDF format, meaning you can open it directly in modern browsers or download it and print it.

(Left-click to open and right-click to save)
Do Not Own This Game?
You can purchase Half-Life 2: Episode Two directly through Steam and could be playing in within moments, depending on your internet connection.