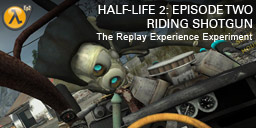 Having acquired transportation, Gordon and Alyx proceed at top speed to White Forest. They discover a radio tower and Alyx decides to try and contact White Forest to warn of the impending attack.
While establishing power to the transmitter, Hunters arrive and ambush them. Gordon fights the Hunters directly for the first time and manages to defeat them.
Alyx and Gordon resume trying to contact White Forest base but are unable as Advisors appear to be blocking the transmission.
Continuing, a crashed Advisor pod is discovered by the road. Alyx and Gordon soon encounter the telepathic attacks of an Advisor.
They investigate a nearby barn and discover an Advisor encamped inside it. Alyx exposes its life support system and Gordon damages it with the Gravity Gun. The Advisor emerges from its mechanical cocoon and demonstrates its telekinetic powers by pinning Gordon and Alyx to a wall.
It appears unfamiliar with its environment, as it probes first a barrel and a dead rebel before nearly killing Gordon. However, further damage to its life support system forces it to flee. Alyx and Gordon fight off a Combine ambush and escape a Hunter-Chopper which arrives at the barn.
Gordon and Alyx are pursued by the chopper to the next Resistance outpost, the car's engine giving out as it breaks through a barricade at the entrance. Gordon defeats the chopper by firing its mines back at it, and the rebels at the outpost offer to repair the car.
Screenshots
Click on the thumbnails below to open a 1024 pixel wide image.
WARNING: The screenshots contain spoilers.
Achievements
I won't be covering the Episode Two achievements in the same way as I did in the Half-Life 2 TREE event, because they are less chapter based. However, the CombineOverWiki has nice list that is very useful.
The Replay Experience Experiment
This post is part of the The Replay Experience Experiment event. This is a chance to replay all the Half-Life games and discuss them based on our experiences since we first played them.
Hat Tip
The intro and trivia text are taken from the CombineOverWiki, a fan-supported, editable wiki covering the Half-Life series of games.
Walkthrough
On the left is a complete text walkthrough for Half-Life 2: Episode Two.

It has been written by Stanley E. Dunigan and updated with all the tricks and tips from PlanetPhillip.Com readers.

It is in PDF format, meaning you can open it directly in modern browsers or download it and print it.

(Left-click to open and right-click to save)
Do Not Own This Game?
You can purchase Half-Life 2: Episode Two directly through Steam and could be playing in within moments, depending on your internet connection.