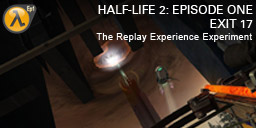 In this final chapter, Gordon helps evacuate citizens and rebels and fights a strider blocking the train tracks. The Citadel blows at the end of the chapter, and its shockwave overtakes Alyx and Gordon's train.
Upon reuniting with Barney at the train station, Alyx and Gordon work to move the citizens to the trains while facing increasing Combine opposition. They then decide to stay behind to lure the Combine away from Barney and the citizens as they board the train and make their escape.
After battling Combine soldiers and a Strider, the duo reprogram another train and board the caboose. As the train carries Alyx and Gordon away, the Citadel is visible in the background with the reactor core once again about to explode, and the Combine's message is sent.
Several pods similar to the one containing the Combine Advisor in the control room are ejected from the Citadel as it detonates. On two occasions, as pods pass overhead, Gordon and Alyx are hit with psychic blasts.
The force of the shockwave from the exploding Citadel causes metal chunks and wreckage to fly toward the train Alyx and Gordon are on as it sends its final transmission, and the screen fades to an ominous white as the Citadel explodes, destroying City 17, and causing a shockwave that overtakes the train.
The last thing that the player hears is the twisting of metal and Alyx whispering Gordon's name. The screen then fades to the credits.
Trivia
No known trivia for this chapter.
Screenshots
Click on the thumbnails below to open a 1024 pixel wide image.
WARNING: The screenshots contain spoilers.
Achievements
I won't be covering the Episode One achievements in the same way as I did in the Half-Life 2 TREE event, because they are less chapter based. However, HLFallout.Net has an excellent guide that I can highly recommend.
The Replay Experience Experiment
This post is part of the The Replay Experience Experiment event. This is a chance to replay all the Half-Life games and discuss them based on our experiences since we first played them.
Hat Tip
The intro and trivia text are taken from the CombineOverWiki, a fan-supported, editable wiki covering the Half-Life series of games.
Walkthrough
On the left is a complete text walkthrough for Half-Life 2: Episode One.

It has been written by Stanley E. Dunigan and updated with all the tricks and tips from PlanetPhillip.Com readers.

It is in PDF format, meaning you can open it directly in modern browsers or download it and print it.

(Left-click to open and right-click to save)
Do Not Own This Game?
You can purchase Half-Life 2: Episode One directly through Steam and could be playing in within moments, depending on your internet connection.