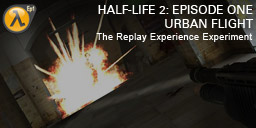 In this lengthy chapter, Gordon and Alyx work their way through the city streets and a dangerous hospital before meeting up with Barney to make their way to another train station so they may finally escape.
Eventually, the duo manages to find the exit of an underground train station and Gordon and Alyx come up to the surface, observing the citadel from afar, and the destruction already visited on City 17.
Dr. Kleiner appears on the screens that Breen used to pass out propaganda, mentioning that the Suppression Field, which had previously prevented human reproduction, is down. As the duo moves on, they engage in several fights with Combine soldiers, Antlions, and zombies.
Alyx and Gordon finally meet up with Barney Calhoun and a group of other survivors who are preparing to move on a train station in order to escape City 17.
With the Combine still following, Gordon and Alyx split up from the group and move through a derelict hospital to draw the remaining Combine forces away from the refugees.
Inside the hospital, Combine forces and zombies of all kinds are fighting throughout the collapsing structure, and hastily constructed defences slow Alyx and Gordon down.
Trivia
No known trivia for this chapter.
Screenshots
Click on the thumbnails below to open a 1024 pixel wide image.
WARNING: The screenshots contain spoilers.
Achievements
I won't be covering the Episode One achievements in the same way as I did in the Half-Life 2 TREE event, because they are less chapter based. However, HLFallout.Net has an excellent guide that I can highly recommend.
The Replay Experience Experiment
This post is part of the The Replay Experience Experiment event. This is a chance to replay all the Half-Life games and discuss them based on our experiences since we first played them.
Hat Tip
The intro and trivia text are taken from the CombineOverWiki, a fan-supported, editable wiki covering the Half-Life series of games.
Walkthrough
On the left is a complete text walkthrough for Half-Life 2: Episode One.

It has been written by Stanley E. Dunigan and updated with all the tricks and tips from PlanetPhillip.Com readers.

It is in PDF format, meaning you can open it directly in modern browsers or download it and print it.

(Left-click to open and right-click to save)
Do Not Own This Game?
You can purchase Half-Life 2: Episode One directly through Steam and could be playing in within moments, depending on your internet connection.