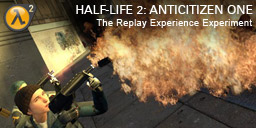 Upon arriving in Kleiner's Lab after teleporting away from the Depot, Gordon Freeman and Alyx Vance discover they have been stuck in a teleport "loop" for a week's time.
They find that the teleport caused the destruction of Nova Prospekt, and the blow they struck there was taken as a sign to begin the Uprising.
The two factions have been locked in combat for a week and all of City 17 is a warzone. Freeman goes on to aid in the battle, while Alyx remains in Kleiner's Lab to help him escape the city.
The player is able to form small squads of citizens to help as they fight their way through the city towards Barney's location.
Near the end of the chapter, Alyx returns to help Gordon but is captured by Combine soldiers and taken to the Citadel.
Trivia
No trivia for this chapter.
Achievements



Screenshots
Click on the thumbnails below to open a 1024 pixel wide image.
WARNING: The screenshots contain spoilers.
The Replay Experience Experiment
This post is part of the The Replay Experience Experiment event. This is a chance to replay all the Half-Life games and discuss them based on our experiences since we first played them.
Hat Tip
The intro and trivia text are taken from the CombineOverWiki, a fan-supported, editable wiki covering the Half-Life series of games.
Walkthrough
On the left is a complete text walkthrough for Half-Life 2.

It has been written by Stanley E. Dunigan and updated with all the tricks and tips from PlanetPhillip.Com readers.

It is in PDF format, meaning you can open it directly in modern browsers or download it and print it.

(Left-click to open and right-click to save)
Do Not Own This Game?
You can purchase Half-Life 2 directly through Steam and could be playing in within moments, depending on your internet connection.