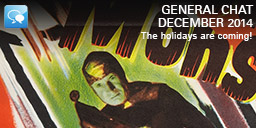 Well, the holidays are only a few weeks away and I am sure looking forward to them.
I am lucky, as I have about two weeks off work (no pay though), but that will give me plenty of time to work on the new theme and add lots of missing maps and mods.
Weather here is just starting to get cold, a smidgen of snow on the tops of the surrounding mountains. Nothing like what the US has had recently – bad luck everybody – hope you stayed safe.
Anyway, chat about anything you want, except maps and mods already listed – that chat should be on the respective post.
Here's a funny stumble to get you started: Cynicism Humorously Illustrated by Eduardo Salles
This Month's Sci-Fi Movie
In June, I started to use a poster from a classic Sci-Fi move as the background for the post image. This month it is from Missile Monsters (1958). Monsters in Missiles! That must be the 1950's version of Snakes in Planes! Anyway, I think the poster is probably better than the actual movie. Watch it at your own risk.