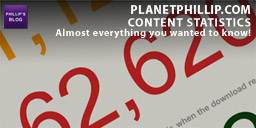 I am pleased to announce the availability of a new project. It's called Content Statistics. It lists almost every statistic related to the content of the site. It doesn't display any traffic to the site, just the content.
I would like to thank Adam Glaysher for all his hard work in getting it to work with my demands and my server.
It is updated manually and approximately every week.
I consider it 90% finished – we just need to get the comment totals working properly and add the Recommendation Images per timeframe. There are also a few tweaks to the design that I will make when I have time.
After that, we will slowly add new stats as I think of them. However, if there is any stat you think we are missing, please let me know.
It can be accessed via the Projects menu at the top of the page.
This post is temporary and will be deleted in amonth, please link to the page itself not this post.