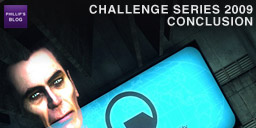 Firstly, I'd like to thank everybody who accepted my challenges and posted comments. I am hoping that more players took the challenges than actually commented, but who knows. I enjoyed creating the challenges and writing the posts each week, and I hope you did too.
I can honestly say that I feel I am a better player than when I started. I no longer use the crosshairs (at least not all the time), I have changed my keybindings (which has helped my movement), I have started to use the pistol much more, rather than the larger weapons and lastly I have increased the sensitivity of my mouse settings (which has made me faster). So, all in all, it was worth it.
That doesn't mean it was perfect and I believe the biggest flaw was the weekly schedule. The problem that was for some reson the amount of maps and mods I posted over the last 2 months has been quite low, therefore having maps and mods to use the challenges on were low.
If, and I stress the if I were to do this again, I would recommend two or three maps and mods that could be used for each challenge. That way, I could stick to my weekly schedule but not worry about whether you have something to play on that will make the challenge fun.
On Podcast 17 a few weeks ago, Dave from ModDB made a couple of great suggestions for challenges. Until then, I thought this would be a one-off series but his suggestions made me realize that there must be plenty of good challenges I could set players.
Therefore, I will start a draft collection and around October next year I'll try and write a new series of Challenges.
Again, thank you for accepting my challenges and I hope you enjoyed trying some of them. Please don't hesitate to send me you challenge suggestions (not via the comments though – let's keep them secret!) and I'll do my best to include them.
I would love to hear readers conclusions on what benefits the challenges were to them.