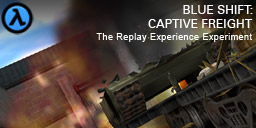 Barney Calhoun reaches the surface and encounters the HECU. He manages to fight through them and reach Dr. Rosenberg. He and a team of fellow scientists were trying to escape until the marines caught them.
Calhoun rescues some scientists who have been locked in railway cars in Black Mesa's classification yards. One of the scientists, Dr. Rosenberg (who is also a character in Decay), advises Calhoun that the entire facility is surrounded by Hazardous Environment Combat Unit Marines intent upon killing all base personnel to cover-up Black Mesa's research into extradimensional exploration.
The only way to escape, Rosenberg explains, is to use an old prototype of the Lambda Complex teleporter; if it works, they can reach an obscure entrance to Black Mesa which (hopefully) has been overlooked by the Marines.
Trivia
No known trivia for this chapter.
Challenges
Some of these challenges may be mutually exclusive
Rescue all three captured scientists.
Get the ammunition in the truck at South Exit.
Do not get captured by the military (when you first meet Rosenberg)
What gets repaired by an unknown entity?
Don't kill the tank
Phillip's Quiz Questions
This section is new for TREE. I will ask a few questions and see if you know the answers before you play.
Whose office was the scientist in, when he told you about Rosenberg?
How many cars are outside?
What bay number do you get the tow engine from?
The Poll
Screenshots
Click on the thumbnails below to open a 1024 pixel wide image.
WARNING: The screenshots contain spoilers.
The Replay Experience Experiment
This post is part of the The Replay Experience Experiment event. This is a chance to replay all the Half-Life games and discuss them based on our experiences since we first played them.
Hat Tip
All text taken from the CombineOverWiki, a fan-supported, editable wiki covering the Half-Life series of games.
Walkthrough
On the left is a complete text walkthrough for Half-Life: Blue Shift.

It has been written by Stanley E. Dunigan and updated with all the tricks and tips from PlanetPhillip.Com readers.

It is in PDF format, meaning you can open it directly in modern browsers or download it and print it.

(Left-click to open and right-click to save)
Do Not Own This Game?
You can purchase Half-Life: Blue Shift directly through Steam and could be playing in within moments, depending on your internet connection.