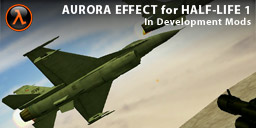 Explore again the Black Mesa Research Facility from the point of view of Jorge Barrett, a maintenance employee of the facility. Today should be one day just like all the other, but what lies ahead?
There's a new codebase which allows new graphical features. However the changes, fixes and additions are enormous, so you will discover them slowly as more updates are released.
– Aiming for at least 10 hours of gameplay.
– Extremely detailed environments (as much as they can get from the engine without crashing it) and multiple paths to get to an objective.
– The player will have to go to Xen, other locations may be featured.
Stay Updated
You can subscribe to the comments on this post or visit ModDB.
Videos
This video shows a live webpage being displayed on a screen within a working tram. How freaking cool is that?!

This video shows 2 F16's on a fly past. It's still a WIP but looks damn fine to me.

Screenshots
SOme of these images are exclusive to PlanetPhillip.Com
Click on the thumbnails below to open a 1024 pixel wide image.
WARNING: The screenshots contain spoilers.
About the "In Development Mods" category
This category contains mods that look amazing and deserve as much promotion as possible. Each post will be updated regularly with the latest news and media. The author's will also b around to answer your questions and comments.
All mods listed here will be released on PlanetPhillip.Com at least one exclusive week before any other website.
In addition, there may also be special promotions, including in-game competitions, special in-depth previews and exclusive media.
If you would like your mod listed here, please contact me to discuss the details.