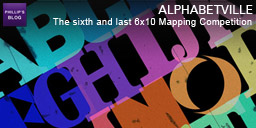 Welcome to the sixth and LAST mapping competition in the 6×10 series.
For this competition I want you to use the shapes of the English alphabet as the basis of the layout for the map. You can also use the lambda symbol.
Some clarification:
The shape can be solid, meaning the player moves around them.
The shape can be created by using solids so that the players moves within the shape of the letter.
The shape can be hollow, so the the player moves within the shape of the letter.
Any font can be used but you can only use one font.
I will play the map and then noclip to view the layout from various angles to ensure that letter shapes have been used.
I recognize that this may seem a little strange and confusing, so if you have any questions or doubts, please don't hesitate to ask.
THE JUDGING
The winner will be the map that uses the shapes of letters to build the most interesting and creative layout and design. Unlike some other competitions I have run, this one will not give combat as much weight in the judging.
RULES
The standard 6×10 rules apply, make sure you read them.
You MUST include a readme.txt file with your map. No readme.txt, no chance to win.
The readme.txt should include your name, the map's name, the font name used, your website and any other details you think I should know.
Reminder 1: You may use any font you wish, but you can only use ONE font.
Remidner 2: You MUST include the font name you based the letters on in the readme.
If you have any questions about the theme or judging, just ask.
Sponsor and Prize
This competition has no sponsor but I will award the winner one copy of Hard Reset Extended Edition, worth 13.49 Euros.
CLOSING DATE
6PM GMT 15th October 2012
As usual, if you have any questions, please use the comments system below or email me directly: [email protected].
Please make sure you READ the main rules!
Visit the 6×10 Mapping Competition Series homepage for full details of the event and the rules.