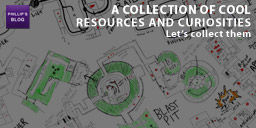 This page is now online. It doesn't have much content but that will change over time: Resources and Curiosities.
Please send me anything you think might be suitable.
Thanks.
Original Post
Imagine for a moment that you are completely new to Half-Life gaming. Some how you have acquired the game, perhaps it was a present.
You play it and like most people reading this post loved it and want to delve deeper into its world.
Where do you start looking? Of course, you perform a web search and find some of the bigger sites and perhaps you stumble upon this site. I have written a guide to various aspects of gaming for the newbie but feel there is still a lot of resources that are missing.
Now, when I say resources, I am not thinking of websites. I feel my Links has the best collection of good websites around. Yes, there are other websites but not ones I believe are that useful. What I am thinking of is more subtle than that, things that get mentioned in forums or on podcasts and then forgotten.
As seasoned players, we have seen these things come and go and enjoy them when we find them but for newbies they may never get to see these things because they are spread out around the net.
Here's an example. I got an email last year from somebody new to the Half-Life community. He contacted to tell me about a great new comic he had found called "Concerned". Since it was new he said he wanted to tell me, so I could tell other people. I had to break it to him gently that "Concerned" wasn't new, in fact it was pretty old.
What I would like to do is create a list of "resources" that we feel all newbies should have access to. Perhaps Concerned should be listed as proper website but there must be plenty of other stuff that doesn't need to be.
Perhaps "resource" is too strong a description for some of the things, maybe "curiosity" is a better description. Things like really intersting threads on forum threads (like this one), images, applications, sections of websites etc.
A good example is GooseGoose's video playthroughs, which are very interesting and provide some great commentary on the games. Another is Steam Sauce, which allows players to set global settings on all their games and mods.
Of course, when a newbie comes into our community, it's easy for us to send him or her to CombineOverWiki, so they can learn the deeper elements of the universe our games reside in, but I'm not really talking about factual information so much.
so, what I would like you to do, si post or send me your favourite "resources" or "Curiosities" and I will check them out and decide how best to add them to the list.
Please note, I am thinking about resources for PLAYERS not modders or developers.
Then, when I have enough, I will create a page with all the links, sorted into various categories, which will them fit smoothly into my "guides" pages.