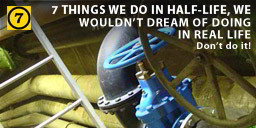 I like a certain level of realism in my gaming but more related to abstract things rather than weapon recoil or other details like that.
For me, it's more about never having crates in room whose doors are obviously too small to allow a crate to fit through – stuff like that.
But when I think about it, my behaviour is the biggest discrepancy of all. How I behave when I play video games bears little or no relation to how I behave in real life.
Now of course, this doesn't include things like shooting Aliens, carrying a crowbar around, collecting every weapon you see etc, etc. Obviously, those things are related to a situation that is so unusual (to put it mildly!) that any comparison is silly.
So, here are 7 things we do in Half-Life that we wouldn't dream of doing in real life.
Don't forget to add your own in the comments.
Number Seven: Walk up and down stairs sideways

Come on, let's be honest, I bet you have done this once or twice in real life – I know I have! However, it's just too strange to do all the time.
I'm talking about turning your body just before you get to a corner, so that you are facing the direction you are going to go when you reach it. Kind of like making sure you are always facing the centre of a circle as you go around.
There's no way I would walk down stairs like I do in real life. In fact, I often jump down the stairs when playing games and there's no way my knees could take that.
I mean, would you really walk along the walls and get to a corner a pop your head out quickly to see what's there?
Actually, another thing I do on stairs in games is try and avoid some sections. I jump down across parts to avoid running all the way around. In some cases, stairs have no guardrails at all and that makes for some quick descents.
Slightly offtopic, I wish modders would add a simple "push" feature so that I could go up to enemies and push them off the stairs with no guardrails. Does that make me a bad person? Couldn't you "kick" in some games?
Number Six: Bunny hop

Okay, this is pretty similar to the stairs section above but bunny hopping is just a case of jumping when you are running. Apparently which, according to the speed run junkies, is faster than just running.
It's more of an art than you would think. You need to time the hops (jumps) just right or you might just hit that ceiling beam and slow yourself down.
Anyway, putting aside the speed thing, can you imagine how silly that would look in real life. Sure, there are definitely stranger things you see on the street but this would be quite funny.
Number Five: Smash every box and crate you can reach

Since I started playing the 100SDoN maps and mods I have become a "crazy box-smasher"! In the past I never really bothered, partly because HL2 and the episodes have their own supply boxes but also because I never felt a need.
Now, I smash every single box I see, not only that but I'll even shoot them if I have plenty of ammo. It's not so much about collecting health or supplies but just the fact that I don't want to leave anything behind.
Definitely should be added to "End of Level" statistics: Crates smashed: 87%
Number Four: Crawling in vents

I don't know about you but I am not particularly claustrophobic but crawling around in dark and spooky vents isn't exactly my idea of a fun weekend hobby. Potholers amongst my readership may revel in the experience but I suspect most won't.
I mean, really, nobody in their right mind would do that. Geez, you only have to have seen Alien 2 or 3 (I can't remember which) to know that BAD things happen in them.
Yet in Half-life, off we go, crawling through them like it's the same as checking our mail or looking for food in the fridge. I am pretty sure that if I were in some of those situations I would sit down and wait for something to happen. You only need to see those blooded scientists to know that's what most sane people would do.
Number Three: Enter a room and swivel our heads 360°

First thing I do when I enter a room is swivel my head around 360° but only when I am playing games or mods. Yes, of course, if I enter a particularly beautiful room then I might do it slowly, so as to take in the surroundings, but when playing I'm looking for either enemies, ammo, health or clues as to where to go next.
I'd get a headache pretty quickly if I did. Of course, my field of vision is much smaller in a game but I still think it would be strange to do it.
One thing that is different is that every room or area we enter is completely new to us when we play games, whereas in real life we general visit the same places quite often.
Still, I can't help thinking it would be funny to see somebody walk into a room and spend the first second looking completely around.
Number Two: Use lifts in an emergency

I did it twice today and if you have played enough mods, then you have too. We do it without thinking or even without caring. We simply walk into lifts during emergencies. How stupid is that? How many times have you fallen in a lift in Half-Life? Yet we keep doing it.
How many lifts are certified for use in an emergency? Probably none and there's a good reason for that: it's a BAD idea! Yet, we, as gamers, thinking nothing of it. In fact, we often don't have a choice, which brings me onto a mini mapping peeve: how many real buildings have lifts without a stairwell either around or next to it? Not many.
Anyway, we get in, jump around (if you have played enough HL maps!) and hope for the best. Not only that but when it starts to shake and you hear explosions you probably say to yourself "okay, here we go again!"
Next we start looking for ladders to climb inside of the shaft etc. We have NO fear. What's the worst that can happen? We die and reload. F7! Bitches love reloads.
Number One: Press buttons and turn valves

I've saved this for last because of all the ones listed, this is probably the most dangerous! Imagine walking into CERN or the Black Mesa Research Facility and one of the first things you do is press every button, turn every valve and fiddle with every screen or panel. They would be carrying you out within minutes – handcuffed too!
I mean, it goes against everything you learn, especially as a child… DON'T TOUCH! Yet without this most basic of gameplay action of gaming, especially SP gaming, would come to a stand still. We would be still stuck near the beginning of Half-Life. Hell, we probably would't have got our HEV on.
So, if you are ever lucky enough to visit ANY sort of research facility, remember
DON'T TOUCH ANYTHING!