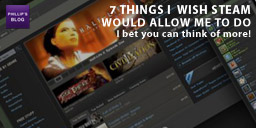 I love Steam. Really, even from the beginning and Valve are always updating and improving it but I just wish I could sit down with the guy/gal or team behind the user experience and chat with them.
I am sure they know how much more it could be and they have a planned improvement programme but I just want to have a few things now.
So, here are 7 Things I wish Steam would allow me to do.
Don't forget to add your own in the comments.
Number Seven: Let mods use the images in the Library like games

Yes, I know that's not exactly groundbreaking but for a company that claims they support their community how hard can it be to do?
The same goes for when you click on a game: you get the background and links etc.
Just release a format that modders must follow and allow them to make their mods look professional.
Please.
Number Six: Leave messages for people offline

I suppose I could comment on their profile and with a recent Steam update it seems that you get notifications about those, but that's public.
Why can't I leave a message for somebody when they are offline that they receive once they come online.
I reckon I would use that more than email.
Number Five: Merge Steam with websites

Some way to plugin a website and its content.
Imagine if I could use Steam Friends/Groups as a frontend to PP, how cool would that be?
I don't really know what I want from that but just as a concept it could be interesting. Now imagine linking MapTap to Steam and that would really rock.
Number Four: Circles, groups or blocks

Now, I am not a Facebook user or a big Google+ user either, but the ability to group different Steam Friends into circles or whatever you want to call them, would be a good idea. That way I could share stuff with my close friends.
I know we have Steam Groups but those are different.
There are so many things this could be applied to.
For example, when playing a game I could be interrupted but one group but not another.
Number Three: Set a Friends name.

I don't know how many times my Steam friends change their name and profile image and I have no idea who they are. It matters most when I am looking for somebody specific to chat with.
That's like people telling people they have changed their postal address but having the post redirected to the same one.
Can you image this happening in real life, with names and faces. Wow, what fun we would have in the street.
Number Two: Give games away.

Imagine I buy a game and I start playing it and hate it. Before DRM, people gave stuff away. Now, we are stuck with it and I think that is wrong.
I would like to be able to give games away, NOT trade, just give away if I have played a game for less than a set period, whether that is in time or percentage.
The game would tell me when I am close to that limit so I can decide.
Ultimately, I, and I believe gamers, will buy less games if they are unsure of the quality. Not all games come with demos, so some recognition by Valve that sometimes we make mistakes would be nice.
Perhaps limit the number of times people can do this, to say 5.
Of course, a game can only be given away ONCE. Otherwise people would just pass it around to their friends.
Number One: Stop friends seeing what I am playing

I want to be online because I want to chat with friends and answer questions about MapTap but I don't always want them to know what I am playing.
Maybe I am testing a mod or maybe it's just none of their business. Either way, I should have the choice.