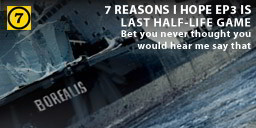 The title of this post has got to have shocked you.
"Phillip must want the Half-Life games to keep coming."
Yes, I do, but on a fixed schedule. Every 3 years is about right for me. Fixed engine too – no updates to break mods or any of those shenanigans.
But the world and Valve don't revolve around what I want – quite right too!
So, here are 7 reasons I hope Ep3 is the last Half-Life game.
Don't forget to add your own in the comments.
Number Seven: Valve have got their fingers in too many IPs

I think I understand why Valve have focused on other games. You see it with succesful authors. They have written a series of books based on one universe and then they create something compeltely new. I guess it's because they want to prove to everybody and themselves that they can create something both new and good.
Nobody wants to be known as a one trick pony, so they try to expand and evolve their creative endeavours.
Now, I am not suggesting that Valve is a OTP, because they are not, the variety of styles of Valve's games, in art, meaning and gameplay, is amazing but I want them to focus.
I've said it before and I'll repeat it here, I have no doubt that Ep3/Hl3 will be the best they can do and quite probably the best of the series and even the best they have ever made, but I don't want to have to see all the other releases pushed out so much faster.
I want them to either commit to HL or drop it. This "half and half" thing is driving me crazy.
Number Six: Sometimes ending something is kinder than letting it struggle on. End on a high!

We've all seen it in the movies: sequels and prequels that just get worse and worse. Sure, there are exceptions but most of the time rehashed stuff just doesn't cut it.
Better to let an IP (Intellectual Property) go and move onto something fresh and exciting. I think Valve know that and that's why they are taking so long to release this one. They want it to be the best ever and that way it makes it easier to tell the fans it's the last.
Number Five: Might allow for some mini-games based on HL

So, in a kind of contradiction to the above, this being the last game could make way for smaller mini-games. I mean, the 7 Hour War is just begging to be made.
With these smaller games no new tech would have to be added and not too many assets either. I believe players would have lower expectations about these games and we would accept good games as opposed to great games from Valve.
Valve could contract other studios to make the mini-games, sell them for $15 bucks and get about 7 hours play time. I'd be happy with that ratio. A new one every year for a few years.
Number Four: The end of all these remakes

As much as I respect what Black Mesa Source are doing, I would honestly have preferred all that time and effort have gone into a new story set within the HL universe.
But I am not just talking about BMS, there are other remakes out there that really should focus all their talent, motivation and energy into new stories.
If there are no new games then maybe these remakes will stop too.
Number Three: The suspense is killing me

I am more patient than most people, hell I am still expecting a reply to an email I sent to Gabe 3 years ago, but the suspense is killing me. Just release the damn thing already!
Of course, this being the last game doesn't mean it will appear in 2012 but if it is the last game at least I won't have to spend the next few years wondering if they will announce a new game and then another 5 years waiting for the damn thing.
Number Two: They could really work on getting Hammer improved

Of course, why would they bother if they stop making the games, but since Hammer is used for all Source games, maybe they would.
The better and easier the tools, the better and more common the mods.
It would also allow somebody to make a complete tutorial series without it going out of date every update!
Number One: I might be able to actually finish this site and get on with my other life!

I dream of the day when I have every single SP map and mods listed on the site, with working downloads, screenshots, reviews etc.
Then I will feel the site is "finished". If nothing new was released and I had everything done then I suppose the site would be finished.
I still might have articles to write but without new maps and mods to play visitor numbers would drop and then the desire to write might disappear too.
That is of course, unless I learn to map myself and start create stuff. HA! Then I could keep going until I die!