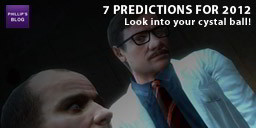 I have been meaning to write this for a few weeks now, better late than never I suppose.
To be honest, it was only the title I thought about and not the actual predictions. These are all off the top of my balding head.
Don't forget to add your own in the comments.
Number Seven: Ep3/HL3 Will be announced but not released

Not really a stretch this one. They have to announce it eventually and it's getting to feel about right.
I think it will be more interesting how the do it, rather than when.
It's been talked to death, but it had to go on the list.
Number Six: I will learn to map!

OMG, how many times have I said that?
More than Valve have made sequels!
This time I feel it in my aching, creaking and slightly curving old bones.
Of course, after all my talk anything I release will be a let down but at least I won't have the excuse of "There's been no releases".
If nothing gets made, I'll just make something myself. Fingers crossed.
Number Five: PlanetHalfLife.Com will get a revamp

It's sad when you see a website like PHL, with such a history just go idle.
I am sure there are good reasons for it, but from a reader's point of view, it's such a waste.
Others have stepped in to take its readership, but I suspect with a revamp many would return in the hope of those glory days.
Perhaps I am wrong and it will just continue to wilt and end up looking like something from the beginning of Portal 2.
Number Four: Valve will release another update that will cause problems.

I hate being negative but I truly believe that EP3/HL3 will use an updated Source engine and in preparation for that they will screw things up for modders.
Yes, they will probably fix it quite quickly but it will still cause issues.
They will probably do it just before the deadline of one of my competitions as well, just to make things even worse.
Can't blame them for improving stuff, gotta respect it really. Just wish it didn't cause issues for all us innocents.
Number Three: 2012 will be a defining year for Source modders.

have a feeling that with all the recent talk of teams changing engines, many modders will compeletely re-evalutate their engine choice. I don't mean teams will suddenly start changing engines, just that instead of automatcially choosing Source because they know it, they will base their decision of the project's objectives instead.
Source mods will remain smaller in scope and design and hopefully more will get released. I'm hoping that modders will see small but well made mods as stepping stones onto greater things rather than those things being great from the beginning.
I would worry that all these modders moving engines and going indie only have one good game idea in them. If that's not true then why worry about the game you are making? Finish the project within the limits of yourself and the eengine, then move onto something bigger and better.
Don't start building a shack and move onto a cottage and finish with a mansion. Start what you finish and move onto to soemthing bigger.
I hope that make sense to you.
Number Two: We'll buy more indie games than AAA titles

Stepping out of my comfort zone here, but I have the feeling that this year, that's exactly what I'll do.
For me, gone are the days of high-cost titles. For less than 10 Dollars there are some fantastic games available.
Big developers will jump on the bandwagon and set up "local" studios and try to push out these sorts of things.
They will never replace the AAA titles, but they will take a chuck out of the playtime – at least on the PC.
Number One: Black Mesa will be released

Sticking my double-chinned neck out on this one. It's a bit like number 7. At some point it's gotta be released so if I keep saying it, I'll get it right one day! Unless of course they cancel or switch engines or even worse go retail.
Wait, perhaps we should just block BM from our minds in a group hynosis session, then we it does get released we will be so happy and surprised.