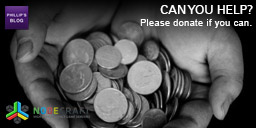 I hate asking for money from readers, but I need to.
Firstly, James and Jonathan from GetNodecraft.Net have been AMAZING. The site, as I am sure you have noticed, is SUPER fast, but not only that but they have been very generous regarding the price I pay, so in many ways they have already donated – thanks so much guys!
There are still other costs, including the files and media server in France but the advertising does bring in more or less enough to cover those costs and the readers have always donated plenty of games to use as prizes etc.
Whilst the site no longer costs me money personally, I still like to have funds in the account to pay for any unexpected costs or emergencies etc.
So, it is with all that in mind, that I ask you to donate any spare cash you can. Of course, I also know times are tough and if you can't then that's fine too. I hope you continue to enjoy the site.
Donate here, if you can