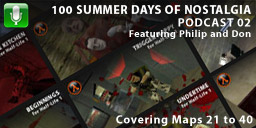 Here is the second of 6 podcasts centred around the 100 Summer Days of Nostalgia event.
In this one, Don AKA Unq and I discuss 20 releases 21 to 40, of course, we chat about a few general modding and HL topics too.
There's not much else to say, so get listening!
Listen to the podcast
Loading…