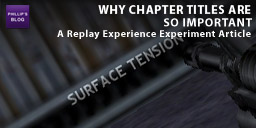 One of the things that has struck me about replaying Half-Life is the chapter titles.
They are such an important part of the game yet they seem to get so little attention.
What they do is help divide the game into neat little chunks and this in itself is important but they also help frame those chunks into distinct elements.
Mod makers would do well to adopt this strategy as it would help them plan their mod better.
I would love to have seen how the names evolved and changed. Did they come first or did they change as the level changed? I'm sure they had a working title, because that's the point of the concept, but how much did that change?
However it changed or evolved, the final result is a concise textual element.
An Example
Let's take the most recent chapter I posted; Questionable Ethics.
Immediately, we have a feeling of secrets and hidden truth. The scientists have been experimenting on the Xen lifeforms in what could generously be described as "curiosity gone wild".
Clearly what they are doing is "questionable" because the welfare of the lifeforms has been ignored, but the benefits to mankind might outweigh those considerations.
Irrespective of the actual considerations of these actions, the title manages to encompass a lot of information.
Each chapter and chapter title "tells a story". That story may be that "there is a lot going on" (Black Mesa Inbound) to "shit happens" (Residue Processing), the point is that each chapter is distinct from what comes before and after.
By separating the games into chapter (just like books it should be noted), the player is given the chance to stop without feeling that they are in the middle of something, but also allows Valve to shift and control attention, gameplay mechanics, story elements, visual aspects, all within a framework.
Linguistics
They are very clever. It would be great to see how they translated them into other languages.
As many of you know, I live in Spain but am English. Movie titles can be the hardest thing to translate because they may contain cultural as well as linguistic elements that are absent from the target language.
Surface Tension may be a good example. For me this title accurately describes the action and "tension" I feel when I reach the surface. It is also "a contractive tendency of the surface of a liquid that allows it to resist an external force."
Are we resisting the Aliens or the Army? Once we break the surface, will we be able to return to the murky depths of Black Mesa.
Perhaps I am reading too much into the titles, but what I do believe is that Valve didn't just pick the first name they came up with. There's more thought there than that.
Please Apply this to Modding
If mod makers adopted this idea they might make better mods, that are easier to manage. If you can't split a mod into distinct section than perhaps it just flows without thought.
It would be quite interesting to see it it is possible to retroactively apply this concept to some of the better mods.