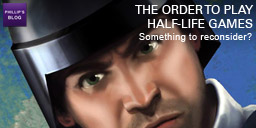 I'm working on a Half-Life FAQ page that would answer the most common questions posted on the half-Life Reddit page.
Since I've been a regular there, about 6 months, I've seen a lot of the same questions asked, especially around the Steam sales times.
One such question is Shall I play the games in chronological release order?
In the past I have always said a resounding YES!, but there was one answer that I thought was very insightful and deserved a new audience and hopefully some intelligent discussion.
In answer to a question similar to the one above it went something like this:
Play Half-Life first and then Blue Shift and Opposing Force in any order, followed by HL2, Ep1 and EP2.
The part I found very interesting was the "Blue Shift and Opposing Force in any order". In many aspects, it IS completely irrelevant which order those games are played in and I wondered whether from now on I would specifically say Half-Life, Blue Shift then Opposing Force.
Here is my thinking:
By playing Opposing Force after Half-Life you are setting yourself up for slight disappointment when you play Blue Shift. Opposing Force is almost as good as Half-Life. It contains a lot of new content that really sets the game apart. Blue Shift is essentially a continuation of Half-Life.
I feel that if I had played Blue Shift immediately after Half-Life I would have been happy with it. Once I finished Half-Life I just wanted to continue the game – whether it had new content or not. I just wanted to extend that feeling.
After I had played Opposing Force, I couldn't help but expect Blue Shift to be something as good or at least with plenty of new content.
So from now on and on the page I am working on, I will mention that personally I recommend play Blue Shift after Half-Life and before Opposing Force, even though it breaks the chronological release order.
What are your thoughts on the matter?