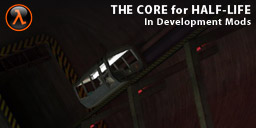 The Core is a single player modification for Half-Life. The player assumes the role of Maurice Andrews, a high level engineer stationed in the deep central complex of Black Mesa.
Set 2 days after the resonance cascade disaster, Maurice finds himself waking up in a make-shift infirmary, somewhere within the high security labs. He is then sent on a mission to find an assist a group of staff who are fighting their way to the surface.
Playing as an engineer and being trapped in a high security area, the player must not only fight the creature roaming the halls, but also repair machinery, override security systems, or sometimes simply find the right key to continue towards the surface.
Stay Updated
Videos
Great video here, showing the changes to some sections of the mod. Highly recommended.

Screenshots
Please note, all screenshots shown here related to 2012. No early ones are available from this website.
Click on the thumbnails below to open a 1024 pixel wide image.
WARNING: The screenshots contain spoilers.
About the "In Development Mods" category
This category contains mods that look amazing and deserve as much promotion as possible. Each post will be updated regularly with the latest news and media. The author's will also b around to answer your questions and comments.
All mods listed here will be released on PlanetPhillip.Com at least one exclusive week before any other website.
In addition, there may also be special promotions, including in-game competitions, special in-depth previews and exclusive media.
If you would like your mod listed here, please contact me to discuss the details.