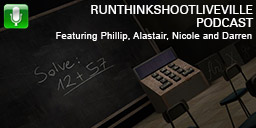 Myself, Alastair, Nicole and Darren discuss the RunThinkShootLiveVille mod.
We talk about each map in detail and Alastair and Nicole go a little deeper into their maps
I wonder if you will agree with our assessment of each map? Only one way to find out!
Nicole has kindly agreed to release her source files for her entry. They can be downloaded here: runthinkshoot_voec_ressources.rar
Listen to the Podcast
Loading…
Save the file
RunThinkShootLiveVille Podcast: 1 Hour 10 minutes – 67MB
Right click the button above to save the podcast your computer.
Please note: Left clicking will not save the file.