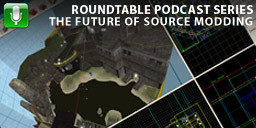 This is the first in a new series of in-depth discussions on one particular topic or aspect of Source gaming. I hope to do around 3 or 4 of these a year.
This one, as you can see, is entitled "The Future of Source Modding", and we discuss various aspects of this theme.
My guests for this show are Jason AKA GeneralVivi, Don AKA Unqueque and Robert Yang AKA CapmpaignJunkie.
I have to admit that my management of this discussion is a little weak and I could have structured it better. For that I apologize. In addition we had some technical issues and had to disconnect the call and start from where we left off. Hopefully, you won't notice. Robert's microphone was also generating lots of clicks and pops and at one point he muted for a while.
Lastly, William from Podcast17 and Au Heppa from Human Error were also due to join us but were unable to.
Jason, Don and Robert have agreed to stop by and respond to any comments, so feel free to ask them your own questions.
Attention iTunes Users: All my podcasts are now available via the iTunes Store.
Listen to the podcast
Loading…