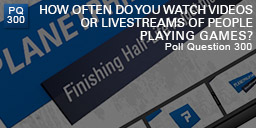 You've probably noticed that I have started livestreaming and then uploading my initial playthroughs of the maps and mods I now add (see the sidebar for the YouTube and Twitch channels).
I have to play them to get screenshots and write a review, so it's actually not that much extra work for me.
I've been aware of livestreaming for a while but never really watched anything.
I thought the idea of watching somebody playing a game was like watching somebody watch a movie, but of course it's not so much about the game itself, it's about the commentary and observations.
It also gives you a MUCH better idea about the game and whether you should buy it. I'm curious how many readers (should I also call you viewers?) spend time watching stuff like this.
I'd also like to hear your thoughts on the news that Amazon has bought Twitch and the news yesterday that Twitch and Steam users could have their accounts hacked.
Lastly, why not share your favourite gaming channels on any network and we can all check them out.
Time to Vote