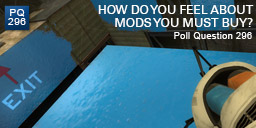 MisterAddy brought this topic up in the July 2014 General Chat post and I feel it's worth discussing more.
Aperture Tag was greenlit (is that right?) and released on Steam. It's a mod, set in the Portal universe, where you have a paint gun, which you use to reach the end. I watched some of it on Maxtasy's YouTube Channel and it looked Okay. But only Okay.
In fact, the idea of paying for mods is not new and this is not the first poll question about it. Back in March 2007, I asked Would you actually pay for a mod? and the voting was pretty close.
The thing is that times have changed a lot and back in the early 2000s people modded for fun, but now it's seen as a legitimate way of getting into the gaming industry. I think that if I do buy a mod it has to be soemthing very, very special. Not only that but a minimum of 6 hours long.
How do you feel?
Feel free to either vote or just discuss it if you feel my vote options are not suitable.
Time to vote