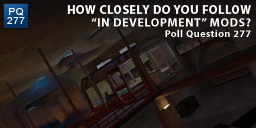 I am disappointed that I don't have time to update the Around the Community posts.
It's always nice to have a round up of the latest news about mods that interest you, especially if there is intelligent discussion associated with it.
I am thinking about various ways I could do something like this and I keep coming back to the idea of a monthly video round up.
There's some interesting work going on and it might be nice to cover that activity.
The question is how interesting would it be for you?
To be honest, I much prefer to not know anything about the "In Development" mods, as I hate spoilers, but it's good to see what others are doing.
Modders spend a lot of time (perhaps too much?) on promoting their unreleased mods these days that any extra coverage is welcome.
Let's be honest, the only consistent pre-release coverage is done by ModDB and no matter how much you like the site, it's not good that they have almost monopolized Mod promotion.
Yes, I see the irony of that statement.
Anyway, I have some ideas I'll play around with.
I'm interested to hear you thoughts on following mods. not just whether you want me to cover them more but more about why you do it, what you look for, do you comment etc.
Time to Vote!