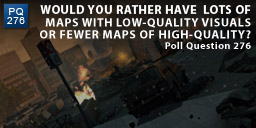 This is a question from James Partridge AKA Aazell.
He wrote to me and asked "In my experience the majority of the time it takes to put together a good map pack is spent making the maps look pretty and getting the detailing to an acceptable standard.
Given there are only so many mappers out there and most work alone, their time is finite. As a result this level of detailing leads to less maps being released as mappers feel the pressure to create high quality visuals.
So it comes down to a simple choice, the community can have lots of playable, fun, low detailed maps with basic visuals or few and far between highly detailed projects… which would you prefer?"
Time to Vote!