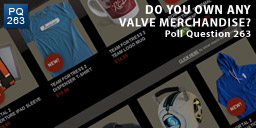 So, you probably saw that thing about some toy being stolen from some toy fair.
Forgive the condescending "some" but I really don't think it's news.
Did get me thinking about Valve merchandise though. I own a T-shirt but I got that because it came with a game I bought on E-bay years ago. I've never worn it and it's still in its box. Hopefully, it will be worth millions of Dollars when I need to retire and I can live my dying days in some 5-Star hotel in Malibu or Hawaii.
Now I am pretty sure William from Podcast17 has more stuff from Valve than I have socks (which is actually a lot – need to prune those soon!) but I am also sure that there are plenty of Valve fans that read this site that also own tons of stuff.
I dare you to count and add up the cost. Person with the most expensive collection wins. NO CHEATING!
But seriously, they make some great stuff and it's always nice to support your favourite rich developer.
Time to Vote!