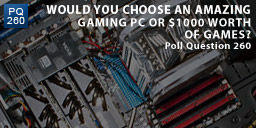 So I was checking out a game on Steam and I noticed who had the game and one person I know has all the games on Steam.
Yes, I do mean all.
Some readers know him, but I won't explicitly say who he his. He has a special Steam account that gives him every single game released.
I know somebody else that has something similar to this and his is a press account. They might be the same type of account, I don't know.
I started wondering whether this is something I would like and I came to the conclusion I wouldn't, although I wouldn't refuse it either (just in case you are reading Gabe).
Having a new spanking, bitchin', smoking (maybe that's not the best adjective for a PC) or any other "insert adjective that impresses people" would be my choice. I have more games than I can play and would prefer to have a huge screen and smooth gaming, even if I only played a handful of games rather than all the games I want but with limited time and hardware to run them, on.
I am going to stick my neck out here and guess that most readers will choose the games because almost everybody I seem to know has a better PC than me.
So, which would you choose. And NO, you can't have a combination of both, it's one or the other. No exceptions.
Time to Vote!