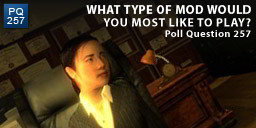 So there I was sitting at my desk, staring at the blank screen of my laptop wondering what this week's poll question should be and then I remembered a comment s.anchev had made (He wasn't the first and won't be the last) …"If someone could use all the GuildHall ideas on a full mod, it could make one hell of a mod.".
And then I had the question. Phew, they are getting harder and harder to write.
Anyway, back to the question.
I made a list of different types of mods that I thought might be fun to play.
I have gone into a little detail below in case readers aren't sure what I mean by them.
"Project Guildhall" style mod
Guildhall is a game development school. Students learn a number of different aspects of game design and release a variety of levels for a variety of games. I post all the Source SP releases on PP. Now, many of them feature short portfolio levels but some contain new gameplay mechanics and player interaction.
The idea here would be to take some of those new ideas and locations and mold them into one larger/longer mod with a story and coherent background.
"Project Quantum Leap" style HL2 mod
Project Quantum Leap is a Half-Life mod with a difference. It consists of levels made by different authors, well more or less. It has 20 maps with 15 authors. There's no story, except the idea of leaping into a different level each time.
Perhaps it's time this was done for Half-Life 2?
Large Art Mod
Most Art mod are small and don't take very long to complete. What if there was a really large Art mod that required players to play for a number of hours in a style that they have never done before. Would they enjoy it? Are Art mod short by definition? Can they be longer and still hold the interest of the player?
What do you think?
Story-driven Co-Op TC campaign
Whatever you feeling about G-String it would be very unfair to no recognize the effort that has gone into creating it. It's a monumental piece of work and took the author 5 years to complete.
In some way it might have been more fun if it were a Co-operative Total Conversion. Being able to play with other players and discuss the world around you is interesting but if it's a single player game that discuss is less likely to take place and certainly not during the mod itself.
Story-driven Co-Op HL2 campaign
Can't help but think the 7 Hour War would make a fantastic setting for this type of mod. Playing with a group of rebels, all trying to defeat the Combine. Sure, they lose but that doesn't mean that the story itself wouldn't be interesting or that groups didn't achieve victory in small smaller battles. The story could be of a group of playing fighting against all odds just to survive.
Summary
So, there you have the options.
They would all be fun to play, but you only get one choice. Think carefully.
As you may have seen, I left the option open for readers to enter their own answer, so please comment here with it, so other readers know what it is.
That Image Again!
Going off topic a bit, but the image I chose for the thumbnail is exactly the same one I chose for The "Art" mods debate. It's a fantastic image and perhaps my favourite image of a non-action mod. So expressive. In fact, somebody should start a website just for screenshots of mods.
Time to vote