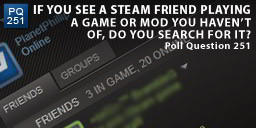 I don't use Steam Friends as much as some, but that's true of Facebook, LinkedIn or Skype etc.
For those that seem to spend their entire life online (I'm looking at you Au Heppa!) they may not pay much attention to their friends list.
I do. I don't know why but I do.
Recently, I have removed most of my "friends". If you are one of these people, please don't feel bad. It's not that I don't like you anymore, it's just that we never talk and I am the kind of person that needs a clear desk and mind to work properly. The same can be said for my virtual world.
Anyway, where the headcrab am I going with this?
As I was removing "friends" I started to noticing what people are playing. Especially if it says "In mod". I have a quick look at the name and see if I recognize it. If I don't, I do a search.
I know others do, because a few times, people have messaged me and asked what mod was I playing. But I am wondering how many people actually notice or even care.
If you were one of the people who got scammed by me yesterday, please accept my apologies – it was just an experiment.
Yesterday, I created a fake mod and called it BMS Final Beta 0.9.88.74 to see how many people would contact me. Before the mod had even finished the intro video I had 3 people online asking me. I then went out for 3 hours and left it running. When I came back I had another 4 messages.
Now, this is perhaps a little unfair, as something with "BMS" is bound to get people excited but other names might not have got so much interest.
so, back to the question…
If you see a Steam friend playing a game or mod you haven't heard of, do you search for it?
The Poll