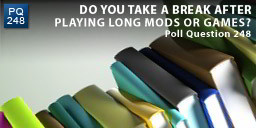 I've just finished a really long and great book. I feel a little relieved that I have finished it, but also sad because the story has finished, at least for the time being.
As much as I love reading I couldn't start a new book for a few days, even a short one – I need time to "digest" what I have just experienced. I need time to look for the plot holes and consider the actions of the protagonists.
In short, I need to let go of the universe I was just immersed in.
It doesn't happen often but I do feel the same after some games and even less often mods. Sometimes you need time to assimilate that experience and take a deep breath.
The length of the break depends on how emotionally attached I was to the book, game, film etc.
That said, it wasn't like that with Portal 2. But definitely with Episode 2. Even if Ep3 had been available when I finished the game, I am not sure I would have wanted to plunge straight into the next adventure. Do you know what I mean?
The Poll