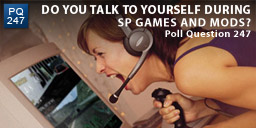 I move around a lot when I play video games.
In fact, once or twice, I've nearly fallen off my chair as I twist and turn in an effort to avoid a rocket or some other projectile.
I'm guessing that's pretty common, but the other day I noticed myself actually talking while playing.
Now that may not seem too strange, but I am talking about an SP mod. No MP and trash team talking for me. It was just me in the house, so I can't even claim I was describing what I was doing.
I suppose this sort of thing is quite normal for Let's Play style videos and even some Beta tests but I do wonder how prevalent it is in normal play.
In fact, it's time to find out!
The Poll