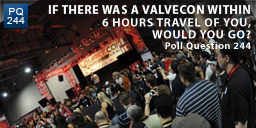 Almost 4 and a half years ago, I wrote a piece called, Ten-Year Anniversary Half-Life Convention starting a tongue-in-cheek petition for a Valve convention (Which only got 84 signatures!).
For some reason, I started thinking about it earlier this week again.
I really can't see why it hasn't happened before. I am sure most readers will say yes to the poll question, but I wonder if the majority of players would go. Saying "yes" to a poll is very different from actually paying money to get somewhere and staying there etc.
Of course, this time it would cover ALL of Valve's games so the attraction would be wider. Perhaps cost is an issue but they might even cover their costs.
Ideally, they would have 3 or 4 regional ones; North America, Europe, and Australasia (Sorry South America, don't know if it would happen there!).
Given enough notice, I might even travel to the States and have my own booth (assuming they let fans have them).
What do you think?
Let's list all the activities they could organize.
The Poll