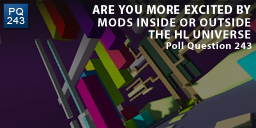 Not sure what makes me think this, but It seems there are more and more "Non-HL" mods being made. I suppose most are TCs (Total Conversions), but not huge new universes, just little adaptations of new ideas.
I am certainly not against these types of releases, but do admit to "Knowing what I like and liking what I know" mentality. My problem is one of time. Running the site leaves me little time to play new stuff, so when I have a choice I always go for HL FPS. Heck, I haven't even played excellent mods like Titan XCIX and Stanely's Parable.
New is great, but not just for "newnesses" sake. We all like a little "strange" every now and again but what if every day brought a new mod in a new style, would that be worse than the same old, same old?
What do you think?
The Poll